Exit Exam Result 2023 (Ethiopia) @result.ethernet.edu.et: The 2023 results for the Ethiopian Higher Education Entrance Exam (EHEE) have now been unveiled, providing an insight into the performance metrics across various universities in the country. With the announcement of these results, universities are busy analyzing their performance, while students eagerly look up their scores.
Topping the charts this year is Gondar University, which saw a phenomenal pass rate of 89.35%. Gondar University's success can be attributed to its commitment to quality education, reinforcing their reputation as a leading institution for higher learning in Ethiopia.

Exit Exam Result 2023
Not far behind in the achievement race is Adama Science and Technology University, registering a commendable pass rate of 87.04%. Their continued focus on technology-driven curriculums seems to be bearing fruit, reflecting positively on the students' outcomes.
Securing the third spot is Bahir Dar University, with a robust pass rate of 84.7%. This highlights the university's persistent efforts to provide a conducive learning environment, resulting in notable student success.
Exit Exam Result Statistics
Other institutes that deserve commendation for their high pass rates include Hawassa University (81%), Mizan Tepi University (81%), Kabridhar University (80.69%), Bonga University (80.6%), Woldya University (80.3%), RC University (79.66%), Jimma University (79.2%), and Haramaya University (77.6%).
These figures reveal a trend of strong academic performance across many Ethiopian universities, pointing to the overall progress of the nation's higher education system.
On the other hand, there's room for improvement in certain universities, with Wolega University trailing at the bottom with a pass rate of just 41%. Mettu University also saw a lower pass rate, with only 53% of students passing the exam.
These institutions would be wise to reassess their teaching methods and resources, fostering an environment that further supports their students' academic progress.
While pass rates offer a snapshot of overall performance, they also serve as a valuable tool for universities to pinpoint areas of strength and improvement. As these universities prepare for another academic year, the Exit Exam results will surely guide them in enhancing their educational strategies, ensuring every student's success in the future.
How to Check Exit Exam Results Online?
To check your Ethiopian Higher Education Entrance Exam (EHEE) results online, please follow the steps listed below:
Open a web browser on your device (like Chrome, Firefox, Safari, etc.).
Copy and paste this URL into the address bar: https://result.ethernet.edu.et/.
You will be redirected to the official results page of the Ethiopian Higher Education Entrance Exam (EHEE).
You may need to enter your registration number or other identification details on this page, depending on the requirements.
Click on the button to submit your details.
Your results should be displayed on the screen.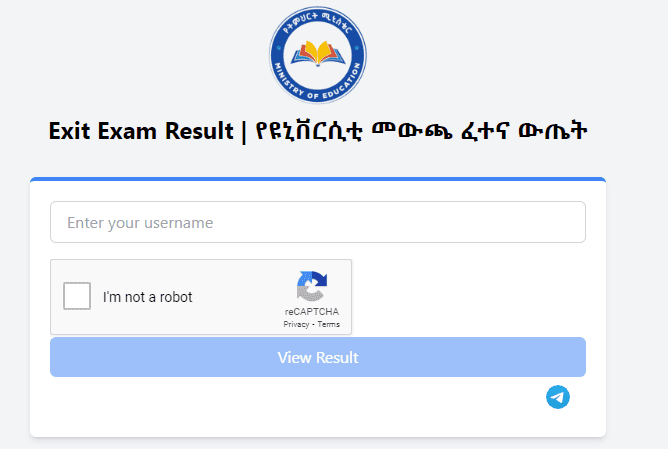 Please make sure to check all information carefully. For any discrepancies or issues, get in touch with the respective authorities immediately. Also, remember to take a printout or screenshot of your results for future reference.