Kebri Dehar University (kdu.edu.et) Ethiopia: Kabri Dahar (Somali: Qabridahare) is a city in the eastern part of Ethiopia known as the Ogaden. Located in the Korahe Zone of the Somali Region. The Kabri Dehar University (website is www.kdu.edu.et) is a newly developed university in this region.  This university has been added to the list and its construction would embark on this year expected to be functional in 2011 EC.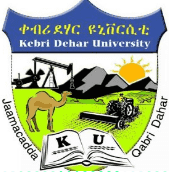 Kebri Dehar University (kdu.edu.et) Ethiopia
According to NEAE admission point, among the students who took the national exam in a regular basis, male and female natural science students who scored 354 and 340 respectively are eligible to join universities. Similarly, 330 and 320 is the entry point to those male and female social science exam takers respectively.
In another way, those male and female students who scored 360 and 355 point and took the exams privately in both natural and social science courses are also eligible to join universities. On the other hand, students who are from emerging and pastoralist states and the handicapped are beneficiaries of affirmative action and the entrance point is lowered for them.
Admission
Admissions to all regular undergraduate programs in Kabridahar University are processed in accordance to the national guidelines set by the Ministry of Science and Higher Education. The admittance to Kabridahar University should be in-line with the country's admission policies and procedures.
Admissions to continuing, summer, in-service, and distance education programs shall be processed through the University Registrar by taking into account the University Senate's Recruitment and Admission Committee criteria applicable to the College of Continuing and Distance Education. Also, the University Registrar is responsible for all students' admittance-related issues including intake, admission, readmission, placement, enrollment, class and exam schedules. Further, the Office of the Registrar keeps academic records, allocation of classrooms as well as lecture halls, and graduations.
Courses offered by KDU
College of Social Science and Humanity
Department of English Literature
Department of History and Heritage Management
Department of Geography
Natural and Computational Science
Department of Physics
Department of Chemistry
Department of Biology
Department Mathematics
Business & Economics
Department of Accounting & Finance
Department of Management
Department of Economics
Dryland Agriculture
Department of Animal Health
Department of Crop Science
Department of Rural Development
Address

Kabri Dehar University
Kabridahar, Ethiopia
Email : info@kdu.edu.et
Website: www.kdu.edu.et
Note: To get all examination result alert to join our facebook page!