NEAEA Grade 12 Result [Re Check & Revaluation Result ] 2019 Complaint Form: Recently the National Agency for Assessment and Examination Agency (NEAEA) Ethiopian, published the University Entrance examination result (grade 12) 2019 on August 13.
After the successfully published the result, a total number of 148,734 students complain against their grade 12 result 2019 online.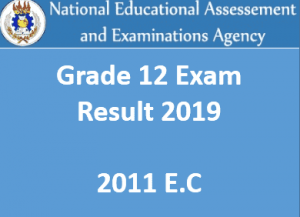 On 16/08/2019 the agency published a notice for the students "Grade 12 Grade 12 Prep / Preparation Complaint Receipt Form for the 2011 school year"
The edited results are released to students. According to the new results, 148,734 students tested in Code 21 and 22 showed a drastic change. Therefore, we recommend that students be able to log in online and view the results in a traditional way. (Students who see your results via SMS will receive the new result tomorrow.)
In the case of complaints against other subjects, there was no problem with the answer to the rest of the subject, but we respectfully acknowledge that all complaints filed individually are being addressed.
NEAEA Grade 12 Result Complaint Form
A) The results of the application will be communicated by telephone.
B) If you apply on the website, the reply will be provided by email address.
C) You cannot apply more than once.
If you would like to make a complaint about your Grade 12 national test results, please submit this complaint by filling out the following form Click Here
NEAEA Grade 12 Compliant Result 2019
The students who have submitted the complaint through the online form now can check their complaint result by Entering Your Registration Number.
Visit: www.neaea.gov.et:8080
Enter your Registration number
Finally, Click on Display.
Just scroll download and check your result in "Compliant response box"
Link: Check Compliant response
read more NEAEA NEWS